Standards-Based Report Cards
What is a standards-based report card?

A standards based report card uses data to describe students' progress toward mastery of grade-level standards and expectations. It replaces the longstanding elementary report card which used an antiquated number-based grading scale.

Vision

The CPS standards based report card has been designed to facilitate communication between home and school regarding students' academic progress. Chelsea Public Schools is a gateway school system that welcomes and educates ALL students and families. This means, all of us -- parents, teachers, support staff, and administrators -- are true partners in educating our students and we work as a community to provide a comprehensive system of supports on a continuum that responds to the individual needs of students. The lives and minds of all students are precious and it is our job to take students from where they are to where they need to be to achieve at their highest levels. As always, families are encouraged to talk to your child's teachers and principal.
Resources for Parents

Watch the videos below to hear a parent and a teacher explain the new standards-based report cards for grades 1 and 2.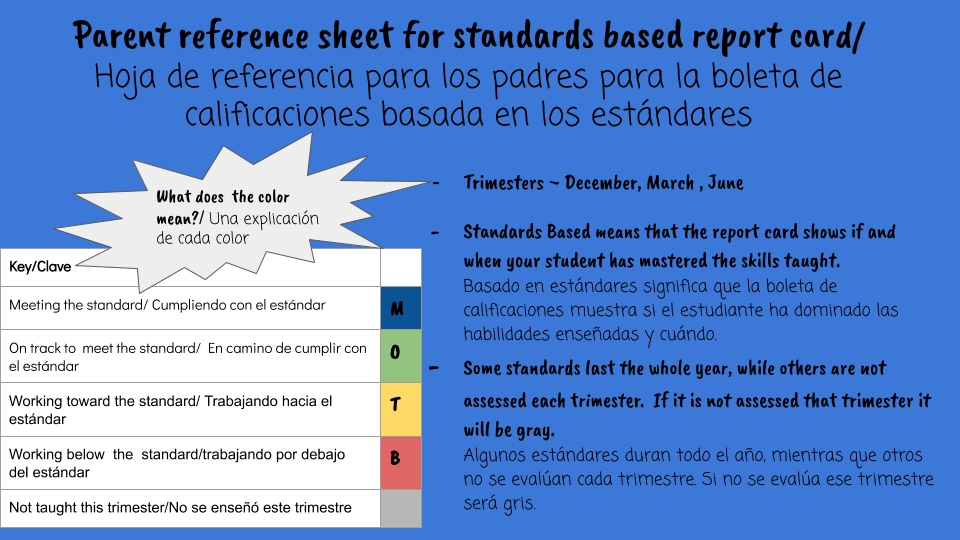 CPS Implementation Timeline

Cross-building Planning Committee formed 2018-2019

Grade 1 2019-2020

Grade 2 2020-2021

Grades 3 and 4 2021-2022

Middle and high schools to follow

Advantages of New Report Card

Translated

Color coded

Includes a paragraph for students with disabilities explaining that report based on grade-level standards with IEP progress note reminder

Includes goals for parents and teachers to collaborate on

Based upon data

Trimesters replace quarters (December, March , June)

Format for Caminos