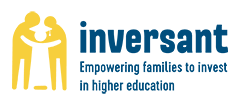 Inversant College Savings Program
Our Recipe for Success

Inversant Education's model is rooted in family engagement. Unlike most college access programs that center on the student or the school, we focus on helping the entire family prepare to enter higher education. Our groundbreaking curriculum, incentivized savings, and connection to community agencies require families to put skin in the game, ultimately propelling more underserved youth toward higher education and a firmer place in the American social and economic mainstream.

Savings Circles: Workshops where we deliver our college access curriculum.

Savings Accounts: Accounts that families open in order to save for college. Families make monthly deposits and funds are withdrawn when their students reach higher education.

Financial incentives: Savings bonuses and other incentives that encourage families to save and to stay involved.

How Does Inversant Work?
The Key Ingredients

Partnerships

Inversant Education works through community partners in Chelsea, Lynn, and Boston. These partners have strong connections with their members and keep in close contact with parents while they are learning how to move their children toward higher education.

Research

Several studies have shown that students who are supported by their parents – not just financially, but in decision making, research, and enthusiasm – are more successful in high school and more likely to enter and complete college than their peers whose families are not engaged.

"Sustained family engagement in children's learning is linked with higher grades and test scores, motivation to achieve, social competence, and aspiration for new enrollment in college."

Youth who have an [educational savings] account are approximately seven times more likely to attend a four-year college than youth with no account.

"Assets build positive expectations about higher education and increase college readiness. Assets may help youth develop college-bound identities and shape behaviors that reinforce this view."

Scholarship Packages

Inversant Education now has more than 40 Compact Scholarships available through affiliation with Boston University, Bunker Hill Community College, Salem State University, UMass Boston, and UMass Lowell.