Kids Vaccinations Available this Weekend at the Chelsea Senior Center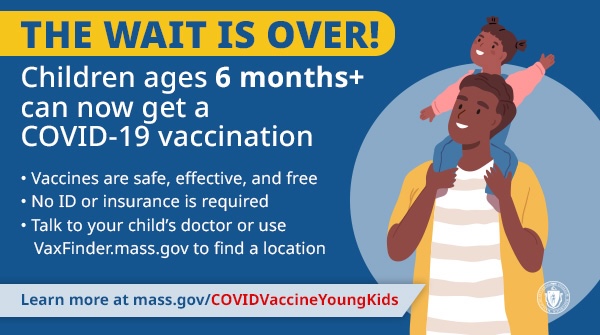 The COVID-19 Vaccination Clinic at the Chelsea Senior Center will have the pediatric vaccines recommended for kids ages six months to four years old beginning this Saturday, June 25. The Senior Center clinic is open every Saturday and Sunday from 10:00am-5:00pm, and is FREE for all Chelsea residents.

The Chelsea Senior Center is at 10 Riley Way in Chelsea, located across from City Hall and behind the Fire Station. The free vaccination clinic is open from 10:00am-5:00pm, and no appointment is necessary. Vaccinations are FREE, and health insurance is not required to receive the vaccine. Children can receive either the Moderna or Pfizer-BioNTech vaccine.

---

COVID-19 Vaccination Authorization

On Saturday, June 18, CDC Director Rochelle P. Walensky endorsed the Advisory Committee on Immunization Practices' (ACIP) recommendation that all children 6 months through 5 years of age should receive a COVID-19 vaccine. This expands eligibility for vaccination to nearly 20 million additional children and means that all kids ages 6 months and older are now eligible.

---

Safety for Children


COVID-19 vaccines are safe and effective for children. COVID-19 vaccines have been used under the most intensive safety monitoring in U.S. history, which includes studies in children.

Your child can't get COVID-19 from any vaccine, including the Pfizer-BioNTech and Moderna vaccine.

Use the links below to access information about the two pediatric vaccines from Moderna and Pfizer:

---

Additional Links

Free doses of the pediatric vaccines and booster shots are available every Saturday and Sunday from 10:00am-5:00pm at the Chelsea Senior Center.

Click here for more information

.